---
The Chemist's Bench Web Site © 1995-2007 was written using enhanced Netscape HTML (4.01) tags, frames, LiveAudio, LiveVideo, animated GIFs (GIF89), and other features like JAVA™ scripts/applets and VRML. This Web Site supports only Web Browsers that are Netscape 2.0 or compatible. If you are not running one, STOP right here, then click on the Netscape button at the bottom of this page to download your own copy NOW! The latest release, Netscape Navigator 4.08, part of the bundle available called Netscape Communicator 4.78, the entire suite is approximately 15Mb in size, so it may take awhile, but it is definitely well worth the wait. For some of my pages and links, make sure you are running Netscape Navigtor 4.0 with LiveAudio installed. You will also need Macromedia Shockwave for Director. Meanwhile, I made all the other links, and a few other things available below for those of you not running Netscape 2.0 or compatible browsers.
This page is best viewed using:

or

---
Here's a way to page me when I am on-line.......



Please note: You must have ICQ in order to use the Add me, Message me and Chat me buttons.

This site is powered by the ICQ Banner Exchange Panel © 2002 ICQ Inc. All Rights Reserved.
The use of the ICQ Banner Exchange Panel is subject to the ICQ Tools Notice
and the other ICQ Terms of Service documents.
---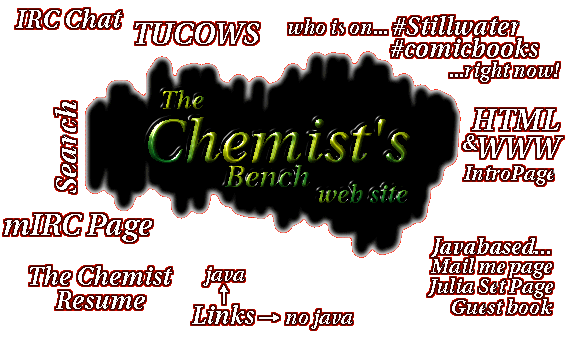 ---
And SOME Additional TidBits!!
The EspritRing ® The Official EspritNet IRC Webring
The ISP/Ring ® The Internet Service Provider's and ISP/C Webring
Smithton Inn Welcome to The Historic Smithton Inn
Awarded The Mining Company - Science & Nature for Kids, Science Careers Feature

[for the week of June 17-24, 1997]
---

E-Mail me with your questions or comments. Interested in having a Webpage designed for yourself ? I can help, simply drop me an Email and let's discuss it !!


people have visited this page since Thursday, December 28, 1995.
Counter data courtesy of WebCounter



Boycott Internet spam!
---
And NOW for the Obligatory Advertisements and Thanks!!
Proud Member of EspritNet and EspritRing WebRing

Site maintained using

. HTML validation by

URL: http://www.chemistbench.com/index.html
This site provided by The UserFriendly Network, and this page, and it's parent web site is operated and updated by Michael B. Weiner. Reproduction in any manner without express written consent is not permitted by law. Copyright © 1995-2007. All rights reserved. The Chemist's Bench Web Site, The Chemist's Bench Web Site © Official TUCOWS Mirror Site, The Chemist's Bench Web Site banner and logo, and The Chemist's Bench Web Site names are trademarks under the exclusive ownership of Michael B. Weiner. All other trademarks are the sole property of their respective owners. Page created on December 28, 1995. Last changes on